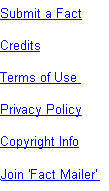 Agreement between you (the site visitor) and Hooked on Facts.com.
www.hookedonfacts.com ("the Site) is offered to you ("You" or "the User") conditioned upon your acceptance of the terms, conditions, and notices listed below ("the Agreement") or found elsewhere on the Site ("Other Conditions"). At its sole discretion, and at any time, Hooked on Facts.com may revise the Agreement or Other Conditions without prior notification. Unless otherwise provided below, revised terms take effect when they are posted, and use of the Site after such terms have been posted constitutes acceptance.

YOUR USE OF THE SITE CONSTITUTES YOUR AGREEMENT TO BE BOUND BY THE AGREEMENT AND OTHER CONDITIONS. YOU MAY USE THE SITE IF YOU ARE 18 YEARS OR OLDER. IF YOU ARE UNDER THE AGE OF 18, YOU MUST GET THE PERMISSION OF A PARENT OR LEGAL GUARDIAN TO USE THIS SITE. THE AGREEMENT COMPRISES THE ENTIRE AGREEMENT BETWEEN YOU AND THE COMPANY WITH RESPECT TO YOUR USE OF THE SITE AND SUPERSEDES ALL PRIOR AGREEMENTS BETWEEN THE PARTIES.

Personal use only
The Site is for your personal, non-commercial use ONLY. Other than copying information from the Site for your personal use, you may not copy, modify, distribute, transmit, display, perform, reproduce, publish, license, create derivative works from, transfer, or sell any information obtained from the Site.

Content Licensing © To license our content, please email: contentlicensing@hookedonfacts.com

Hooked on Facts.com's discretion
You agree that should you: provide inaccurate or incomplete information to Hooked on Facts.com; view, use, or tamper with any non-public area of the site; violate the intellectual property rights or any ownership rights of other persons or entities (see Intellectual property, below); post, transmit, mail, or in any way convey ("Convey") information, text, files, links, software or any other material ("Material") to the Site that you do not have a legal or contractual right to post; Convey any Material that is in any way illegal, false, obscene, libelous, fraudulent, defamatory, threatening, grievously offensive to the Internet community, and/or harmful (including but not limited to viruses, corrupt files, or any other similar software or code) or otherwise objectionable; or Convey any advertising or commercial solicitation to other users, Hooked on Facts.com may deny you use of the site indefinitely. You further agree that Hooked on Facts.com has, to the fullest extent allowed by law, the right to deny any and all site uses, services, benefits, or privileges whatsoever to You for any reason, and that the enumerated list above is provided for your convenience and does not limit Hooked on Facts.com's discretion, to the fullest extent allowed by law, to deny You site use for any reason.

Company use
When You Convey any and all Material to the Site, You, to the fullest extent allowed by law, are granting, or warranting that the owner of such Material has expressly granted, a royalty-free, perpetual, irrevocable, non-exclusive right to use, license, reproduce, modify, transmit, distribute, perform, display and delete such Material worldwide in any fashion and in any medium the Company desires.